Original Article
Open Access
Range extension of Christisonia scortechinii from mainland Southeast Asia into Borneo, and notes on the distinction between Aeginetia and Christisonia (Orobanchaceae)
Botanical Studies
An International Journal
2015
56:28
Received: 8 September 2015
Accepted: 24 September 2015
Published: 5 October 2015
Abstract
Background
Christisonia is a little-documented and poorly studied root-parasitic genus in the Orobanchaceae occurring in India, China, Indochina and part of the Malesian region. Recent collection of a Christisonia taxon in Kinabalu Park in Sabah, Borneo, taxonomically identical to earlier Sabah collections that have hitherto not been recorded in the literature, led to an assessment of the taxonomic identity of the species against Christisonia scortechinii, C. siamensis, C. sinensis and related species.
Results
Some taxa in China, Indochina, the Malay Peninsula, and the Philippines are morphologically identical to the Borneo taxon except in the number of calyx lobes, but differ by several distinctive characters from other well-distinguished species in the region. Studies of dried herbarium specimens, augmented by photographic images of different stages of fresh flowering material and a scrutiny of available descriptions confirmed that the calyx has two primary lobes in the bud that may separate into 3–5 portions, giving a variable number of apparent lobes in specimen material collected at different localities. This new scrutiny of the calyx also permitted an improved description of the calyx differences that separate Christisonia and the closely related Aeginetia, which have not been clearly elucidated in the past.
Conclusions
Christisonia scortechinii Prain (Orobanchaceae), the only species that was described as having an initially spathaceous calyx among species of this root-parasitic genus, is newly recorded for Borneo (including Kinabalu Park, where its presence has been overlooked). The range of the species in mainland Southeast Asia, previously extended from Peninsular Malaysia to Thailand and Vietnam, is here further extended to Laos and China. Christisonia wightii Elmer (relevant to the Philippines) and C. sinensis Beck (China) are reduced to synonymy.
Keywords
Aeginetia BorneoChina Christisonia KinabaluLaosNew recordOrobanchaceaePhilippinesUltramafics
Background
The root-parasitic genus Christisonia Gardn. has ca. 20 species distributed from India to China and the Malay Peninsula (Parnell 2001, 2008), Philippines, SW Celebes and Flores (Van Steenis 1967). Christisonia has hitherto not been documented for Borneo Island, in spite of pre-existing collections, although the closely related Aeginetia L. is recorded there (Beaman and Anderson 2004; under Scrophulariaceae). Both Christisonia (Quisumbing 1940) and Aeginetia (Kusano 1903, Lee and Goseco 1932) have been reported to parasitize the roots of sugarcane crops. In nature, Christisonia is also a root-parasite on other grasses, including bamboos (Barlow 1982; Parnell 2001), and other plant families, including Acanthaceae (Nandikar et al. 2013) and Vitaceae (Benniamin et al. 2012).
Christisonia
and
Aeginetia
are resolved in the same clade, within the tribe Buchnereae, in the general molecular phylogeny of the Orobanchaceae (McNeal et al.
2013
). However, a closer study of the phylogenetic relationship between these two genera with adequate taxon sampling is still elusive.
Christisonia
species have been distinguished by their distinctly lobed calyx from
Aeginetia
, also a root-parasitic genus, which has spatheate calyx (Parnell
2001
). Prain (
1904
) had, however, also described the calyx of the Malayan
C. scortechinii
as "spathaceous rupturing into usually 2, occasionally 3–4 lobes in the fully opened flower", so causing uncertainty if the spatheate calyx of
Aeginetia
is a consistent character for distinguishing it from
Christisonia
(Parnell et al.
2014
). Nevertheless, the presence of a covering of colourless slime over
Christisonia
flower buds (Fig.
1
a) seems to provide another consistent distinction from
Aeginetia
, in which this slime is absent (Parnell et al.
2014
). Also, most
Christisonia
spp. have largely white corollas, and most
Aeginetia
spp. lilac, purple, red or yellow corollas, although this is not mutually exclusive and a purplish corolla form has been reported for
C. scortechinii
(Yong
1989
) (Fig.
1
d) and species such as
A. indica
also have white corolla forms (Parnell
2012
). Another general difference is that
Christisonia
flowers are typically on short pedicels borne on short or obscure stems that do not protrude much from the ground level, whereas
Aeginetia
species often have taller stems 10–40 cm long that carry the flowers clearly above ground level.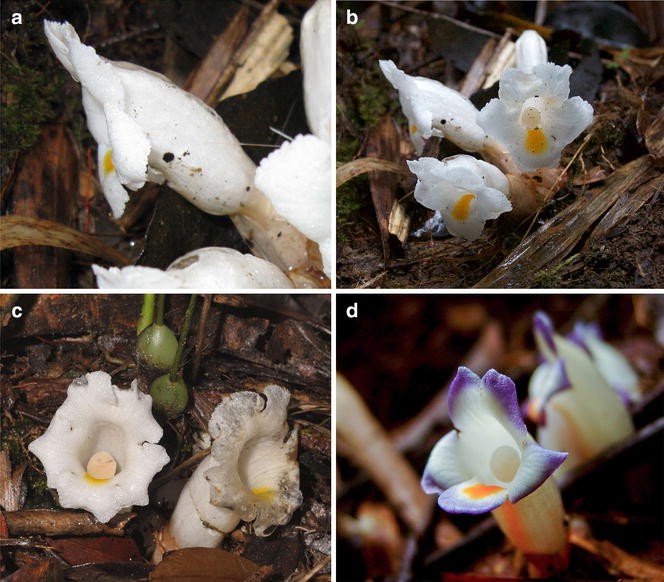 More recently, the distribution of several Christisonia species has become better documented. For example, C. siamensis Craib, once thought to be endemic to Thailand (Parnell 2001) has been documented in Nagaland, NE India (Benniamin et al. 2012) and SW China (Tan 2013). Nevertheless, the identification of these root-parasites, the flowers of which are delicate and difficult to preserve (spirit collections are essential), remains challenging. Comparatively few collections of the various species and the poor state of preservation of key reference specimens of earlier documented species hamper comparison and reliable identification (Parnell 2001; Parnell et al. 2014). Only in a number of cases where photographic images of sufficient quantity are available can we elucidate the morphology and variation. This, fortunately, is becoming the case as amateur and professional botanists make their images more readily available on the World Wide Web.
This paper formally records Christisonia for Borneo through specimens collected recently from Kinabalu Park by Antony van der Ent (Fig. 1a–c), which began this investigation, as well as previous collections from there and elsewhere in Sabah.
Methods
Herbarium material of Christisonia for Borneo was studied at the Singapore Herbarium (SING) and the Sabah Parks Herbarium (SNP), and through images on JStor for the Global Plants Initiative, the latter including material from K and WU; herbarium acronyms used follow Thiers (2015). The SNP specimens collected by A. van der Ent in Kinabalu Park were preserved in FAA mixture. Photographic images of different stages of fresh flowering material taken by A. van der Ent and colleagues or which were available from various internet sources (as respectively acknowledged below) aided the interpretation of floral structures and development, especially that of the calyx.
Declarations
Authors' contributions
AVDE collected and photographed specimen material from Kinabalu Park and Peninsular Malaysia, and compiled the information on vegetation, habitat and host plants. KMW conducted the morphological studies and taxonomic comparisons, and initiated the manuscript draft. Both authors read and approved the final manuscript.
Acknowledgements
We thank Sabah Parks, especially Dr Jamili Nais and Rimi Repin, for research support and for the loan of the herbarium material. AVDE is grateful to Rositti Karim and Sukaibin Sumail for help during the fieldwork in Kinabalu Park, and Anthea Phillipps for an earlier identification of Christisonia. KMW acknowledges the support of the National Parks Board, Singapore and the Singapore Botanic Gardens.
Compliance with ethical guidelines
Competing interests The authors declare that they have no competing interests.
Open AccessThis article is distributed under the terms of the Creative Commons Attribution 4.0 International License (http://creativecommons.org/licenses/by/4.0/), which permits unrestricted use, distribution, and reproduction in any medium, provided you give appropriate credit to the original author(s) and the source, provide a link to the Creative Commons license, and indicate if changes were made.
Authors' Affiliations
(1)
Centre for Mined Land Rehabilitation, Sustainable Minerals Institute, The University of Queensland, St. Lucia, Australia
(2)
Laboratoire Sols et Environnement, Université de Lorraine-INRA, UMR 1120, Nancy, France
(3)
Singapore Botanic Gardens, Singapore, Singapore
Copyright
© van der Ent and Wong. 2015