A phylogenetic examination of the primary anthocyanin production pathway of the Plantae
Botanical Studies
An International Journal
2014
55:10
Received: 9 July 2013
Accepted: 8 November 2013
Published: 25 January 2014
Abstract
Background
Anthocyanin pigments aid in reproduction and provide ultraviolet protection to land plants. We have examined the phylogenetic relationships among the five primary enzymes responsible for producing anthocyanin pigment in its three major forms. Dihydroflavonol 4-reductase (DFR), anthocyanidin synthase (ANS), Flavonoid 3'glucosyltransferase (F3GT), flavonoid 3'hydroxylase (F3'H), and flavonoid 3'5' hydroxylase (F3'5'H) are responsible for the final steps in anthocyanin pigment production.
Results
We were interested in how conserved the anthocyanin pathway genes may be among land plants, and evolutionarily how far back into the plant lineage anthocyanin production may be traced. The DFR, ANS, F3GT, and F3'H genes date back 450 million years to the first land plants. Mosses, spike mosses, and ferns express these four products, although there is no evidence of sequence orthologues for these genes in algae. Additionally, F3'5'H is not evident in organisms that predated gymnosperms.
Conclusion
Our findings support the hypothesis that "blue" anthocyanin pigments did not evolve until 300-350 mya along with the gymnosperms, although the "red" anthocyanin pigments may be as ancient as the mosses (~450 mya).
Keywords
Molecular evolutionAnthocyaninDihydroflavonol reductaseAnthocyanin synthaseFlavonoid hydroxylaseGlucosyltransferase
Background
The anthocyanin flavonoid pigments are ancient secondary metabolites of land plants that can be biochemically detected in species as ancient as mosses (Bendz 1961). Anthocyanins have two major roles in plant physiology. First, they provide visual cues to animals to help induce pollination and seed spread. Therefore, the anthocyanin family of pigments is responsible for most red, orange, pink, purple and blue flowers and fruits observed in nature. The second function of anthocyanins is as a light energy absorbance and dispersal system. These pigments can diminish photo-oxidative injury in leaves, both by protecting chloroplasts from excess high-energy quanta and by scavenging reactive oxygen species. Anthocyanins defend plants against ultraviolet radiation damage by absorbing in the 280–320 nm wavelengths (Takahashi et al. 1991; Li et al. 1993). Additionally, these pigments can absorb wavelengths between 500 and 550 nm and may also reflect across a wide region near 600–640 nm (Gausman 1983; Neill and Gould 2003).
There are three major anthocyanin pigment types found in terrestrial plants: delphinidin-3-glycoside (blue/purple), cyanidin-3-glycoside (brick red), and pelargonidin-3-glycoside (orange/red) (Grotewold
2006
) (Figure
1
). The production of the pigment type varies from species to species depending upon which primary enzymatic components are available. For example, irises and delphinium primarily produce the blue/purple delphinidin pigment, while geraniums primarily produce the bright red pelargonidin pigment (Grotewold
2006
). The anthocyanin chromophores are generally present in the plant cell vacuoles. Anthocyanins are also present in the vegetative tissues, including leaves, stems, and even roots. They are discernible in the leaves of autumn foliage and in developing shoots. The actual color variation that is visible in tissues is also dependent on cellular pH.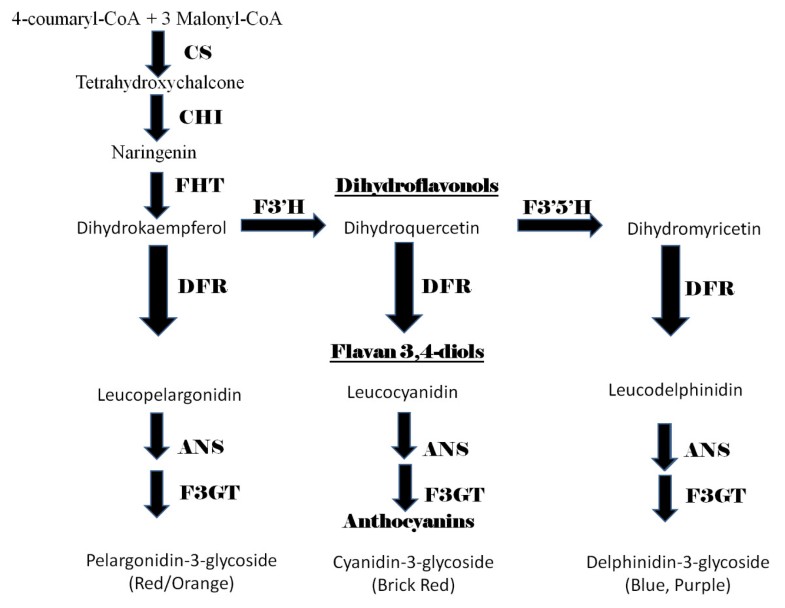 The three major anthocyanin pigments are the end products of the complex flavonoid pathway which begins with the condensation of one molecule of 4-coumaroyl-CoA and three molecules of malonyl-CoA by Chalcone synthase (CS) (Buchanan et al. 2000) (Figure 1). Tetrahydroxychalcone is produced in this pathway by CS and is then converted to naringenin by chalcone isomerase. Naringenin is the flavone precursor for the dihydroflavonol dihydrokaempferol (DHK). The anthocyanin pathway itself uses DHK as its primary precursor (Grotewold 2006) (Figure 1). Dihydrokaempferol may be either converted into dihydroquercetin (precursor of the dark red/mauve pigment pathway) by flavonoid 3′hydroxylase (F3′H) or into leucopelargonidin (precursor of the red/orange pigment pathway) by dihydroflavonol 4-reductase (DFR) (Figure 1). Leucopelargonidin is then converted into the red pigment pelargonidin by anthocyanidin synthase (ANS). Dihydroquercetin may itself follow two different pathways, either being converted into leucocyanidin, a flavan 3,4-diol, on the way to being the brick red anthocyanin cyanidin, or being additionally hydroxylated by flavonoid 3′5′hydroxylase (F3′5′H) to give dihydromyricetin, the precursor for the blue, delphinidin anthocyanins (Figure 1). Plants producing the bright red pelargonidin-pigmented flowers do not necessarily need to make the enzymes F3′H or F3′5′H enzymes. Cyanidin-producing plants require expression of F3′H, and delphinidin-producing plants must have F3′5′H expression to yield purple or blue flowers. The final step for conversion of the major leucoanthocyanins to anthocyanins is first anthocyanidin production by ANS followed by glucosylation by flavonoid 3′glucosyltransferase (F3GT), also known as UDP glucose-flavonoid 3-o-glucosyl transferase.
Biochemical studies suggest that all higher plants produce anthocyanins. In addition to about half of moss species (Markham 1988; Mues 2002), anthocyanins are detectable in ferns (Harborne 1965), as well as gymnosperms and angiosperms. Surveys of ferns have shown that 80 to 90% of anthocyanins in young leaves are the brick-red colored, cyanidin-3-glycoside (Harborne 1967; Harborne 1979). Furthermore, this pigment family can be identified in angiosperms, such as sea grasses, that have returned to an aquatic habitat after initially evolving on land (Trocine et al. 1981).
Limited evolutionary studies have been performed on the anthocyanin biosynthetic pathway across a range of species. Rausher et al. (1999) examined the evolutionary rate variation among genes in the pathway using the species maize, morning glory, and snapdragon. They found the "upstream" (chalcone synthase, and chalcone flavanone isomerase) anthocyanin pathway genes have evolved more slowly than the "downstream" genes (DFR, ANS, F3′H, F3′5′H, and F3GT) in all three species. Lu and Rausher (2003) further determined upon examining a larger number of six species that chalcone synthase evolved more slowly than the furthest downstream anthocyanin elements ANS and F3GT. We have been able to find no reports in the literature of the delphinidum pigment being produced in gymnosperms.
Caputi et al. (2012) performed a phylogenetic reconstruction of the UDP-glycosyltransferases (UGTs). The research examined over 1500 putative UGTs in 12 plant genomes based on the highly conserved PSPG amino acid motif. Their data suggested that the UGT family increased in size during the transition from algae (1 UGT) to vascular plants (74) to higher plants (85–241 UGTs). Caputi et al. (2012) were able to detect UGTs in moss and algae, but they identified none as being in the anthocyanin-related GT clade.
The purpose of this present study is to examine the molecular evolution, phylogenomics, and relationships among the five major enzymes (DFR, ANS, F3′H, F3′5′H, and F3GT) defined as the "downstream" biochemical components that produce anthocyanin pigments across the whole range of species within Plantae. Characterization of such relationships will clarify how production of these pigments has evolved in terrestrial plants along with how the functional genomics of the enzymes in these pathways have changed over evolutionary time. Additionally, it is our intent to determine whether the interspecific relationships of these molecules reflect recognized evolutionary hypotheses in the Plantae.
Methods
Sources of sequence data
All sequences were obtained from either the Gene Index Project site at Harvard (http://compbio.dfci.harvard.edu/tgi/) or GenBank (http://www.ncbi.nlm.nih.gov/). The DNA orthologue searches were conducted using the resident BLAST search engines on either the Harvard site (http://compbio.dfci.harvard.edu/cgi-bin/tgi/Blast/index.cgi) or GenBank site (http://blast.ncbi.nlm.nih.gov/Blast.cgi) (Altschul et al. 1997). If protein sequences were not already available in the database accession, they were generated by first determining the correct reading frame of each Expressed Sequence Tag using the Open Reading Frame (ORF)-finding program at the National Center for Biotechnology Information (http://www.ncbi.nlm.nih.gov/gorf/gorf.html). All putative protein sequences were then "BLASTED" to ensure that they were indeed homologous to the sequence being analyzed— DFR, ANS, F3′H, F3′5′H, or F3GT. Additionally, the five anthocyanin pathway enzymes were also employed to search green, brown, and red algae databases at the Gene Index Project site. As with the other searches, the cDNA of the ORF primary coding sequence was employed.
Sequence alignments and phylogenetic tree construction
Multiple alignments of DFR, ANS, F3′H, F3GT and F3′5′H DNA and amino acid orthologues were constructed using the CLUSTAL X v1.8 software (Thompson et al. 1997). All alignment settings were employed at default values.
Phylogenetic trees were generated from the genetic distances provided by the CLUSTAL X analysis using the neighbor-joining method (Saitou and Nei 1987) and bootstrap analyses (Felsenstein 1985) consisting of 1,000 replicates were performed. The neighbor-joining trees were visualized with the TREEVIEW program (Page 1996). Bootstrap values less than 500 are not included on cladograms.
We performed additional Maximum Likelihood (ML), Randomized Axelerated Maximum Likelihood (RaxML), Parsimony (MP), and Bayesian (Maximum Clade Credibility) analyses of the DNA and protein alignments using PhyML 3.0 (Guindon et al. 2010), Trex (Stamatakis 2006), MEGA 5.05 (Tamura et al. 2011), and BEAST (Drummond et al. 2012), respectively. These additional analyses were performed using default settings.
Conclusions
Our data support a hypothesis that has been suggested in the literature over the last decade (Seitz et al. 2006; Halbwirth 2010). This hypothesis is that F3′5′H is clearly a component of several coniferous genomes and so these blue pigments emerged before the angiosperm/gymnosperm divergence. Although it may not necessarily be accurate that these pigments were first used for reproductive purposes in ancient gymnosperms, they were clearly present in these genomes.
Further, cyanidin has been considered "the most primitive" anthocyanin for a long time because it is the most common anthocyanin in gymnosperms and almost ubiquitous in leaves and stems (Mueller and Walbot 2001; Halbwirth 2010). We do not dispute this conclusion. In fact, our data support that cyanidin production is even more ancient than gymnosperms because the enzymatic components that produce cyanidin are present in mosses. The high conservation of the F3′H phylogeny (Figure 5) from DNA to protein supports the significance of cyanidin production.
One final observation is that the DNA and protein cladograms for DFR and ANS (Figure 2, 4) do not mirror each other. Differences between DNA and protein phylogenies often arise from silent DNA mutations, which ensure protein sequence conservation, but produce phylogenetic divergence at the level of DNA. However, our data are suggesting something more complex. We are not seeing evidence in DFR and ANS that DNA sequences are being selected and driven by silent mutations because such changes would inevitably be observed as alterations in DNA-based phylogeny with a continued preservation of the protein sequences. Instead, the DNA sequences are conserved and changes occur in the protein sequences. How can we explain this?
To ensure no data errors, we double-checked, using BLAST, that all protein sequences employed in our analyses were appropriately homologues and being translated from the correct open reading frame.
We also employed "Multiple Alignment Using Fast Fourier Transform" (Katoh and Kuma 2002) as an alternative method of alignment, but found no difference in our findings from implementing the "classic" methods of alignment (data not shown).
Finally, we determined whether our results are not just a consequence of the neighbor-joining (NJ) analysis. We performed additional ML, RaxML, Parsimony, and Bayesian analyses of the DNA and protein alignments using PhyML 3.0 (Guindon et al. 2010), Trex (Stamatakis 2006), MEGA 5.05 (Tamura et al. 2011), and BEAST (Drummond et al. 2012), respectively. No substantive variance could be seen in the ML, RaxML, MP, or Bayesian versus NJ trees constructed (data not shown). These controls support our conclusion that our phylogenetic results are not simply based on a biased analysis.
One hypothesis for the DNA/protein cladogram divergences is that two separate and distinct selection processes are occurring. One is a DNA selection process that tolerates as few changes as possible in the primary coding sequence and where selection is being driven by divergence and drift. The second selection process would allow minor mutations to occur in the DNA coding sequence, leading to amino acid selection and functional maintenance of the proteins under fluctuating environmental conditions. A minor change could occur in the DNA sequence as a small percentage of the total length. That minor change would be amplified in the amino acid sequence of the protein because it would turn into a larger percentage of the total protein length. This phenomenon would lead to what we are observing: i.e. the DNA sequence highly conserved with the protein being selected for functionality and allowing minor null or silent mutations to encroach.
Declarations
Acknowledgements
The Authors wish to thank Scott Kight and Dirk Vanderklein for their helpful discussions. Additionally, we thank the Presby Memorial Iris Garden for access to their facilities and records. Finally, we wish to express our gratitude to Lisa Campanella for her generous help in editing this article. This research was supported by a Margaret and Herman Sokol Faculty Fellow Award (#07A).
Authors' Affiliations
(1)
Department of Biology and Molecular Biology, Montclair State University, Montclair, USA
(2)
Department of Biology and Horticulture, Bergen Community College, Paramus, USA
Copyright
© Campanella et al.; licensee Springer. 2014
This article is published under license to BioMed Central Ltd. This is an open access article distributed under the terms of the Creative Commons Attribution License (http://creativecommons.org/licenses/by/2.0), which permits unrestricted use, distribution, and reproduction in any medium, provided the original work is properly cited.